So the Pirates lost last night and are now going to a rubber match with the San Fransisco Giants who are 8-1 in rubber matches this year. Not sure if that statistic really means anything, but I have faith in Jeff Karstens pitching well enough to get the Buccos another win. BTW, if anyone has or knows where I can find this 2009 SP Authentic Signatures card of Jeff Karstens I would really appreciate it. I've only seen it pop up once on eBay and sadly I didn't win it. I need it badly for my PC.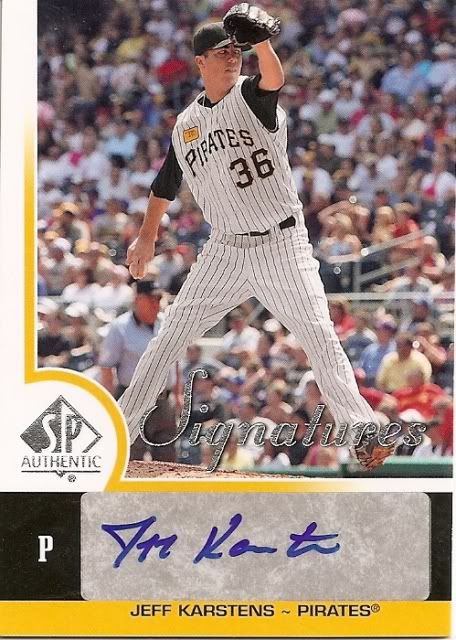 On another note, I thought I would share with you one of my favorite multiplayer cards I have in my Pirates Relic collection.
2004 Topps Best Seat in the House
Dave Parker, Bill Madlock, Bill Mazeroski
Three Rivers Stadium Seat Relic
This card is just flat out awesome! It features the Cobra, Mad Dog, and Maz along with a piece of a Three Rivers Stadium seat. The thing that I really like most about this card is that it features Dave Parker and Bill Madlock wearing the alternate yellow jersey which looks great with the yellow seat relic. Perfectly placed in the middle is the man responsible for the most famous HR in World Series history (even though it was done at Forbes Field and not Three Rivers). This card is permanately in my Pirates PC and was won on eBay last month for about $12 shipped.